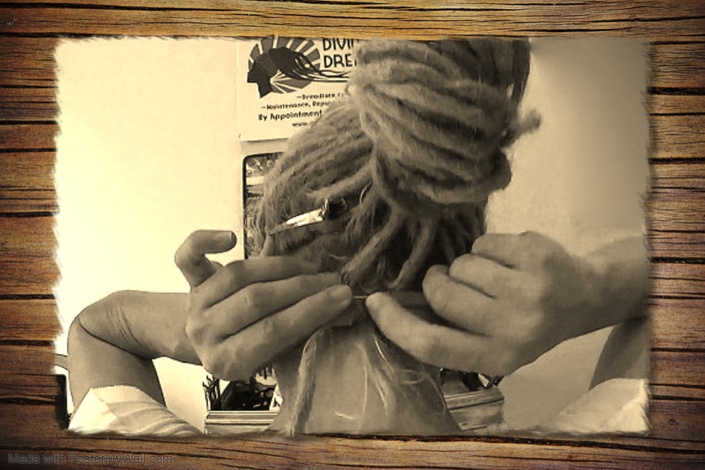 C1. D.I.Y Dread Maintenance Course
Learn how to maintain your own dreadlocks using the Divine Hand & Hook artisan crochet method!
Watch Promo
Enroll in Course
Divine Dreadlocks "DIY Natural Dread Maintenance Course" was the world's first, online course teaching you a professional method for how to do your own dreadlock maintenance 100% naturally and easily, without using any chemicals, products, wax or looping your dread through. It has helped over 500 people learn to do their own dread maintenance!

WHO IS THE DIY DREAD MAINTENANCE COURSE FOR?
People with dreads who wish to learn how to maintain them for themselves.
People who wish to visit a Loctician less and be able to tidy up their dreads in between visits.
People wishing to save money on dread maintenance costs.
People who want really tidy, tight, beautiful dreads all the time.
Anyone who has always wanted to learn how to do their own dreadlock maintenance the right way.
Anyone who wants to do as little dreadlock maintenance as possible. Because once you do your own maintenance correctly following this course, you'll only ever need to do it 2-4 times a year!
Anyone who is going traveling and will be away from their Loctician for a while but still wants to have their dreads maintained.
Anyone with free-form dreads who wishes to start tidying them up or tightening them.
People who can't find a good loctician near them
WHAT WILL I LEARN IN THE DIY MAINTENANCE COURSE?
Divine Dreadlocks history & why you can trust that this method will work on your hair.
A bit about the Divine Hand & Hook method of dreadlocking.
Learn how to maintain your dreadlocks with a crochet hook properly and safely.
Learn how to lock in your dreadlock regrowth (without looping the dread through).
Learn how to lock in the loose hairs in your dreadlocks.
Learn how to lock in the loops and bumps in your dreadlocks.
Learn how to tidy up your dreadlock fuzz quickly or lock it in.
Learn how to do more difficult dread maintenance.
Learn to separate connected dreads.
Learn to join skinny dreads to improve their sustainability
Learn how to avoid using any lock products or wax on your dreads.
BENEFITS OF DOING YOUR OWN DREADLOCK MAINTENANCE:
Save money on your dread maintenance. Some people spend up to $1000/year on getting professional dread maintenance (that's 5 visits/year at $200 each)! Use it for a holiday instead!
Have the kind of dreads you've always wanted!
Not have to wait for dreads to be formed well. Use this course to lock them properly straight away.
No palm rolling necessary! Save your arms,
No interlocking or looping through needed. Avoid weakening your roots!
Help the environment by stopping to use of all dreadlock enhancing or accelerating products or wax.
You won't lock accelerating products after you follow this course. Save $$$
Stop using dread wax and having dust and fluff stick to your dreads! Save $$$.
Get tutored by someone who has used these methods to keep her own dreads divine for 12 years!
Be rest assured this method will work for you because it has been tried and tested on over 2000 clients with different hair types since 2000! (As long as you follow the tutorials, give it a go & keep locking!)
Get instant streaming access to the video tutorials so that they're always easy to find!
Experience ease of learning with well scaffolded lessons (this means you learn the skills in a sequential manner)!
Enjoy easy viewing, due to the high quality professional HD filming and sound.
Own the course for life. There is no limited views or access!
Get support via the Divine Dreadlocks Community (& dread models) group.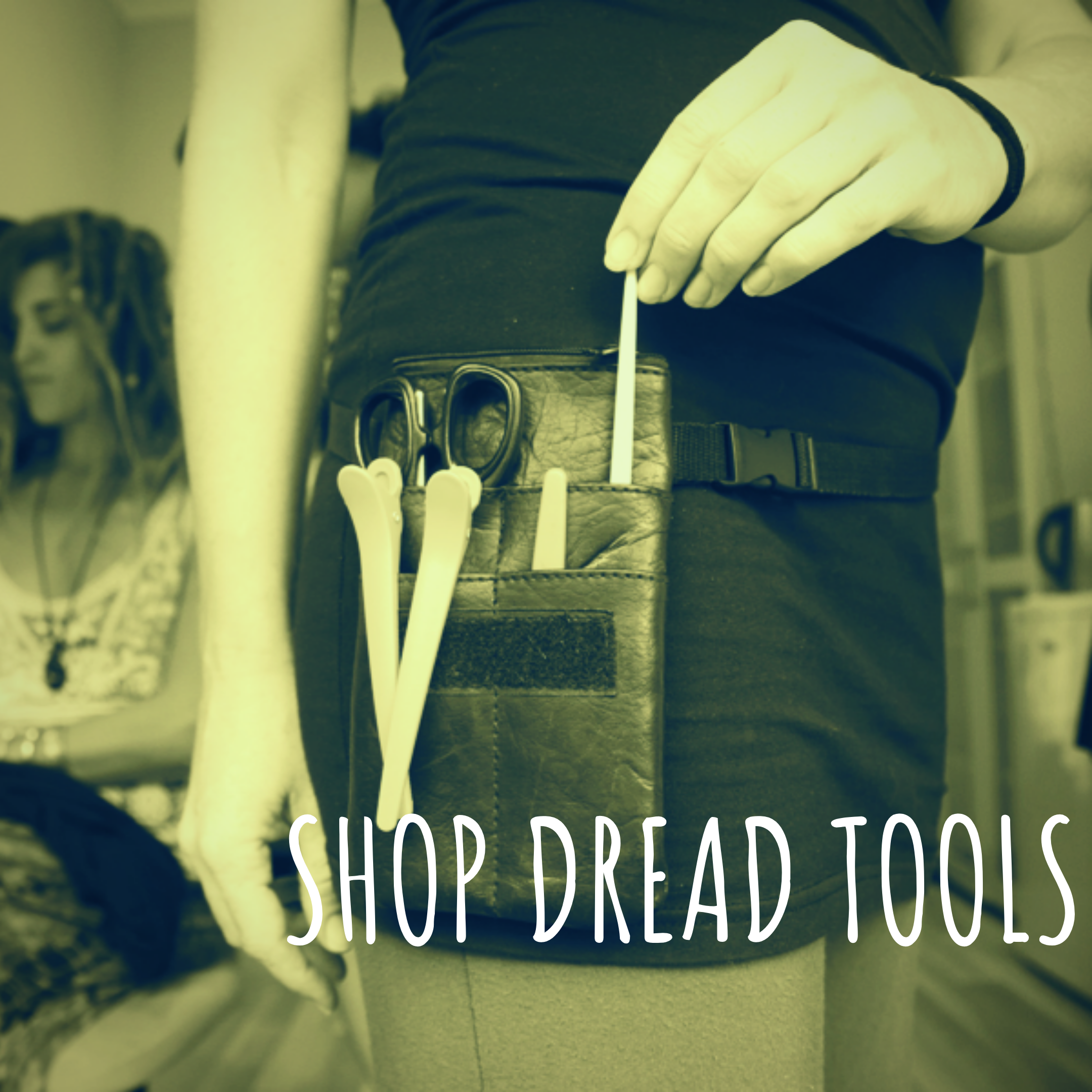 ALL YOU NEED TO USE THE TEACHING IN THIS COURSE IS A HOOK, A STRONG FINE TOOTHED COMB & A COUPLE OF CLIPS. YOU CAN GRAB THE BASIC KIT HERE.
TERMS & CONDITIONS:
The information contained in this course must not be shared with anyone unless they are an enrolled student, each course is allocated a personal licence.

The student takes full responsibility for their actions and the owner is not liable for any injury that may result from the use of this course. Without care the hook can go into your finger. If this occurs you must apply appropriate first aid immediately as recommended in the course.

Student results are indicative of their personal efforts, you are entirely responsible for your own success in maintainign your dreads.

You are agreeing to all these T&C's by enrolling in the course.
Course Curriculum
Learn How to maintain your own dreadlocks (easy)
Available in days
days after you enroll
Learn DIY Dread maintenance for messier dreads (Can be used for self or others)
Available in days
days after you enroll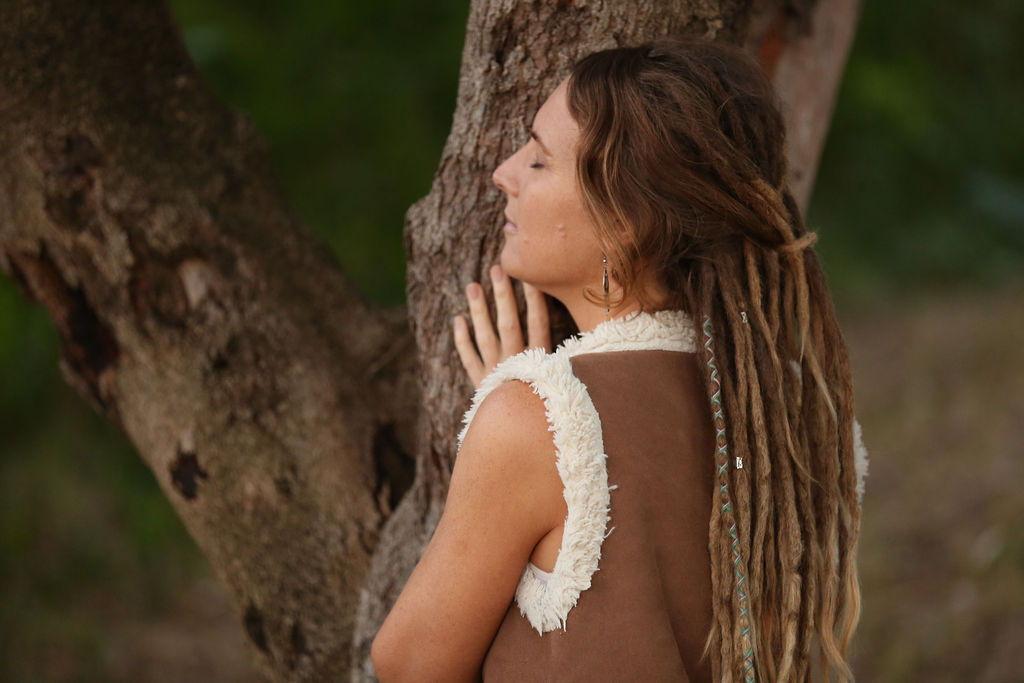 FEEL AT PEACE KNOWING YOUR DREADS ARE WELL MAINTAINED & HEALTHY!

WATCH THE COURSE INTRO FOR FREE!

AND EMPOWER YOURSELF WITH A SKILL THAT WILL HELP YOU TO ALWAYS HAVE LUSH DIVINE DREADLOCKS!


Frequently Asked Questions
When does the course start and finish?
The course starts now and never ends! It is a completely self-paced online course - you decide when you start and when you finish.
How long do I have access to the course?
How does lifetime access sound? After enrolling, you have unlimited access to this course for as long as you like - across any and all devices you own. If any business involved stops operating you will be notified and given the change to download all videos for lifelong access no matter what.
Do you give refunds if I find no value in the course?
If you practice the techniques in this course there will be great value for you, but if you made a mistake you can write to the Em within 24 hours to explain your circumstances and by owners discretion you may get a full or partial refund.
Do I need any tools to learn from this course?
YES! You will need a basic locking kit. This is for sale in the Divine Dreadlocks Training shop. Check the menu tabs for the shop.
I have very fine hair, will it work for me?
Yes! The Divine Hand & Hook crochet method of dreadlocking works on all hair types whether they're fine, medium or thick, caucasian, asian, afro or other.
Will it work for all hair types?
Yes! The Divine Hand & Hook method is the best dreadlocking method BECAUSE it works equally well on all hair types! And means you can stop using products!
I have afro hair and was told that twisting or rubbing my roots is the way to maintain them. Is that what you teach?
NO! With the Divine Hand & Hook method there is no need to rub, roll, twist or interlock dreadlock roots to maintain them! DH&H actually permanently locks in the loose hairs at the top of each root in about 3 minutes and nothing else is needed.
Your Instructor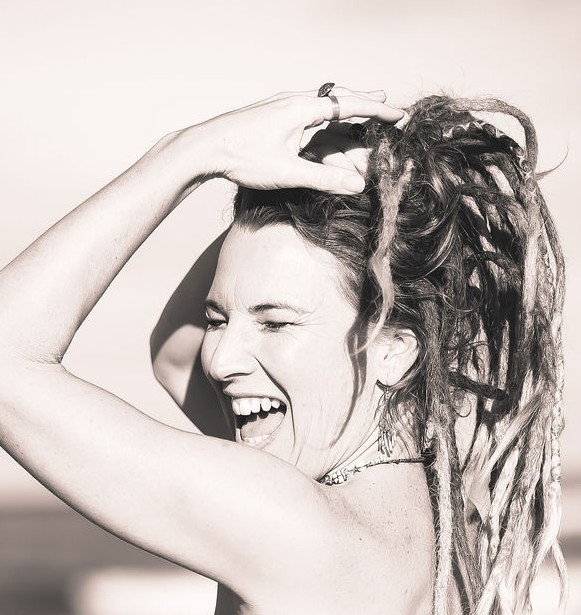 Em has been working with dreadlocks since she got her first dreadlocks in Thailand in the year 2000. She taught herself how to do her own dread maintenance using a small crochet hook and quickly she began to get maintenance requests from other travelers who were amazed that no wax or rolling was involved. Because back then - nobody outside of Bangkok knew about the crochet method of doing instantly permanent dread work! It was all about backcomb, roll, twist, rip & roll or wax wax wax!

Em travelled the world over a continuous 6 year period creating & maintaining dreads for people in UK, Italy, Holland, Spain, Brazil and on her return to Australia in 2006 she discovered that there were no dreadlock services utilising the crochet hook method in existance. This was when she turned her travel hobby biz turned into a true part time business and Divine Dreadlocks was born.

Through word of mouth and rave reviews her reputation grew to an international standing which enabled her to be booked out 6 months in advance. This allowed her to stop working as a high school teacher (design & technology) and to earn a decent wage in a 3 day working week, being at home as her babies were born and grew to school age.

Due to requests to teach others her skills and trade, she utilised her professional teaching knowledge to create a series of dreadlocking courses to help others learn how to do dreadlocks properly.

The Natural Dread Loctician Course series is aimed at empowering others to have all the skills and knowledge necessary to set up their own "lifestyle businesses" from home, studio or hair salon offering a high quality dreadlock service.

She wishes to empower as many people as possible to work in ways that allow them to:

1) Be their own boss,
2) Feel the freedom of choosing their own work days and hours,
3) Earn good money from home (up to $70/hr)
4) And gain financial stability or abundance with children.

Feel free to connect via email if you have any questions about her offerings!